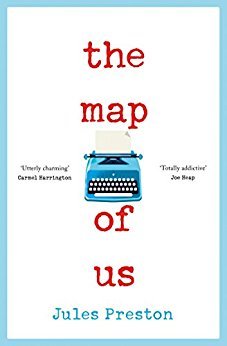 Genre: Fiction
Similar to: A Man Called Ove by Fredrik Backman
Could be enjoyed by: Quirky fiction lovers
Publication date: 4th May 2018
In keeping with my highly focused and organised lifestyle, I've FINALLY got round to reading and reviewing The Map of Us which I requested one whole year ago on Netgalley. Better late than never!
You see, the reason that I delayed…and delayed…and delayed reading the book was that I simply had no idea why I requested it. I think I got sucked in by all of the "next Eleanor Oliphant" hype but in reality it's nothing like that.
The Map of Us is a complicated story of one family across the generations. There's Violet, physically disabled and seemingly disowned by her family, growing up at a time when that kind of treatment was somewhat socially acceptable; Tilly, her granddaughter who likes statistics, analyses her relationships with quantitative data and creates a Compatibility Index to prove where her and her ex went wrong; her father who is a professional sand sculptor; her sister who is addicted to buying designer handbags she can't afford and her brother who is leading world authority on the colour blue. There's also a whole host of other odd people who crop up along the way, adding to the narrative of the numerous main characters. And – hahaha – they're all super quirky too! Hahahaha…ha. Oh.
To me, it felt like the characters were all a bit, well, weird purely for the sake of it. Don't get me wrong, I love an oddball but when literally everyone in the book has their own thing going on that is nothing whatsoever to do with the main narrative then it gets a bit tedious. It's even harder when the novel is character driven and the plot is wafer thin. For example, Tilly's Dad refuses to sculpt dolphins, even though they always win the competitions that he enters. Fine – that's a nicely observed bit of humour but the point was repeated so many times it felt utterly laboured.
My other issue was with the structure of the book. The chapters are written from a first person perspective but it takes a while for you to work out who is actually speaking and that there's more than one narrator. This stops being a problem once you've got to know the family a bit – the chapters are short so it doesn't take too long – but it is quite hard to get into at first. I don't know why you'd deliberately make it awkward for the reader?
Overall, I think my main issue was that I just couldn't engage with the characters and as such, wasn't really bothered about what happened to them. The book was described as being charming and quirky and I can see why but for me it needed more action and a stronger narrative thread. I didn't hate the book – it was a nice enough read but unfortunately I got bored with it all.
Two and a half "Oh, do grow up"s out of five.
Cute and quirky but kinda dull. Not for me!
—————————————————————————————————————————————–
---
Please note that I read this book for free in exchange for an honest review courtesy of NetGalley. Thanks NetGalley!