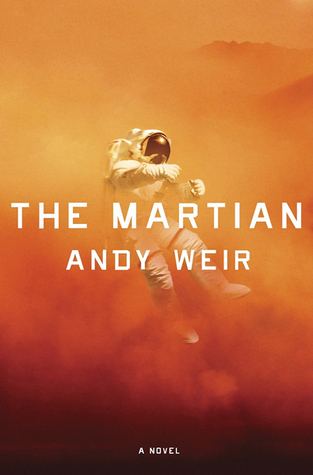 Genre: Sci-fi, dark comedy
Similar to: A tiny bit like Illuminae by Amie Kaufman and Jay Kristoff, or The Revenant but set in space
Could be enjoyed by: Everyone, even people who don't think sci-fi is for them
Publication date: 27th December 2012
LOG ENTRY: SOL 6
I'm wandering round Poundland (gotta love a bargain) looking for a cheap notebook to, well, make notes in when I come across the "re:cover" section of books. Basically: secondhand books for a quid. And The Martian was there. So I picked it up because of the hype I'd seen surrounding it and bought it because of the blurb – essentially a man (Mark Watney) gets stranded on Mars after he has an accident evacuating the planet and his crew think he's dead. He has to survive on his own with broken equipment, broken comms and a limited stock of food. No wonder the first line is
"I'm pretty much fucked".
LOG ENTRY: SOL 14
I start reading.
Mark you really are fucked, you absolute spanner. There is NO WAY that potatoes would grow in such shallow soil PLUS I'm pretty sure that "compost" would need to have well rotted manure in it. Trust me, I'm a gardener.
Trusted Amazon review:
 Incorrect advice
Read book about potato growing. Potatoes don't grow in shallow soil, even on Mars. 0/10.
LOG ENTRY: SOL 57
Ok so I've suspended my disbelief and now I'm hooked on the story. Like, totally hooked. I could do without some of those massive number info dumps but that's a minor criticism. Thank god for the black humour because without it this book would be pretty dry.
LOG ENTRY: SOL 134
LOVING how pacey this storyline is. Every page is:
"I'm probably going to die!"
"So I thought about it and…science!"
"I'll just try to use radiation/deadly gasses/fire/duct tape"
"I nearly died but it sort of worked so I did some more science and now it really works! I'll live to fight another chapter!"
Yay duct tape indeed.
LOG ENTRY: SOL 254
Mark is such a juvenile idiot but I can't help but love him. I've suspended my knowledge of plants, I may as well suspend my feminist principals too.
Hehe, boobs (.Y.)
LOG ENTRY: SOL 345
The scientific research in this book is astounding. I mean, I have literally no idea if any of it checks out but it seems totally plausible so I'm going with it. If I'm honest, I don't really care. It's making up one hell of a story.
LOG ENTRY: SOL 405
Speaking of feminist principals, there's pretty good representation of women working in science (as you would hope for a book set in the future). I feel better now about the 80085 thing earlier.
LOG ENTRY: SOL 467
Mark Watney, why aren't you just a tiny bit depressed about what's going on? There's no way you can survive this. I love how chipper you're being but you're not really that believable as a character. Then again, it's a lot more fun reading about an upbeat engineering genius than Marvin the Paranoid Android.
LOG ENTRY: SOL 504
I am so excited about the conclusion to Mark's little issuettes. Yes it's far fetched and yes I'm sure that in real life NASA would have to cut the funding but I love how this has all panned out. Brilliant stuff.
LOG ENTRY: SOL 549
I guess this is the end. What a ride! I loved every second of reading this book.
Premise: Go!
Pacing: Go!
Characters: Go!
Representation: Go!
Humour: Go!
Research: Go!
Gardening advice: Houston, we have a problem.
Five inconceivably home grown potatoes out of five.
Compelling, engaging, funny and ingenious; I loved everything about this book!