Hello Bookworms!
Welcome to another edition of the Calendar Girls!
Calendar Girls was a monthly blog event created by Melanie at MNBernard Books and Flavia the Bibliophile and will now be hosted by Katie at Never Not Reading and Adrienne at Darque Dreamer Reads.  It is designed to ignite bookish discussions among readers and was inspired by the 1961 Neil Sedaka song Calendar Girl.
Just like the song, each month has a different theme. Each blogger picks their favourite book from the theme and on the first Monday of the month reveals their pick in a Calendar Girls post.
So without further ado, this month's theme is…
…and my top pick is…
Westley and Buttercup from The Princess Bride
HMMMM WHICH BOOK SHALL I CHOOSE FOR THIS PROMPT OH I KNOW I'LL JUST GO WITH MY FAVOURITE BOOK EVER!!!
The Princess Bride is, simply, awesome. Buttercup is a beautiful farm girl who is spotted by the evil Count Rugen and is subsequently betrothed to the dastardly Prince Humperdink. However, Buttercup is in love with Westley (the farm hand) and ends up getting kidnapped before her wedding day. Westley spends the rest of the book trying to rescue her, even though Buttercup is full of snark;
"Enough about my beauty. Everybody always talks about how beautiful I am. I've got a mind, Westley. Talk about that."
Buttercup is basically my feminist hero.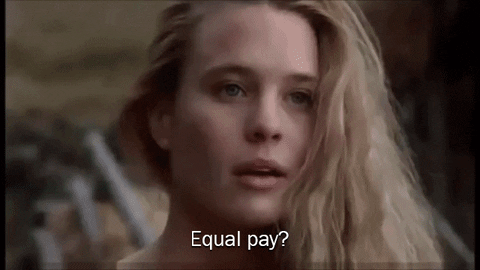 And Westley… awww, adorable Westley.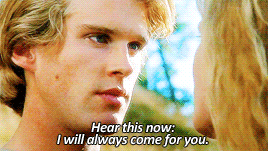 Buttercup and Westley are absolute relationship goals.
I've heard people criticise the character of Buttercup (not a princess) by saying that she has no agency and just goes along with whatever people ask her to do. I beg to differ. When we first meet Buttercup, she's filthy, smelly, and only interested in riding horses. She escapes dangerous situations (at least, she tries to). Yes, Westley ends up rescuing her but Buttercup is hardly lying around clutching her pearls, waiting for her (not a) prince to turn up: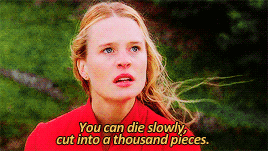 I LOVE THEM!!!!!!!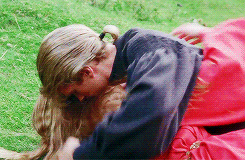 So, who is your OTP?  Have you written your own Calendar Girls post? Let me know in the comments!