Hello bookworms!
On the off chance that any of you are still reading my blog after not being present on here for months, I've dedicated this afternoon to catching up on comments, tags and ACTUALLY WRITING SOME ACTUAL REAL LIFE BLOG CONTENT. Crazy, huh?
I feel like I should start with an apology. Everyone, I'm so, so sorry for disappearing and basically ignoring you all. Life has been somewhat different recently and one of my worst personality traits is hiding myself away when things get overwhelming. However, I'm going to make a concerted effort to get back into blogging, blog hopping and responding to you all. I genuinely feel quite guilty about my absence and I hope that none of you are too mad at me. Here, have a kitten in a basket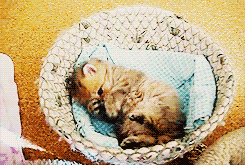 So, I guess you're all wondering what I've been up to, huh? Well, you might remember that I was volunteering with my local library. What initially started as a few hours per week shelving books has now turned into me being part of the management team, running events, fundraising, being half of the social media team and getting involved in all kinds of projects that don't in any way relate to my skill set (this is on top of my actual property development job). To say I'm busy right now is something of an understatement but I'm really enjoying myself.
The current "project house" is almost…ALMOST nearing completion. The last of the big jobs is painting (everything, at least four coats as it's entirely new plaster) then loft insulation, carpet fitting and internal door hanging… and I think that will be it!  I cannot tell you how excited I am. In the past few months my cousin has been amazing, building us a new staircase, a boiler cupboard and putting in all of the interior woodwork. I'm sure there will be a million other tiny jobs to do along the way and literally as I'm typing I'm thinking "we need to seal the brickwork in the fireplace and build a new doorstep and clean up the front path and put some plants in and…" but the end is in sight… finally!
Despite all of this (and perhaps because I'm spending so much time on the library) I'm still on track with my Goodreads target of 100 books. Expect many, many reviews to come in the next few weeks! God only knows where I am with #ReadHarder, I'll have to look later on at where I've got to. I have two months to sort it, fingers crossed it will be ok.
So, what have you all been up to? How are you doing with your reading targets? Talk to me, I've missed you!
Lots of love,
Lucinda xxx
P.S. I had a little play around with some new blog graphics. Let me know what you think!