Hello bookworms!
Welcome to my a-bit-later-than-planned-mid-month mini-reviews!
I've been trying to read more diversely recently and so today I'm focusing on black female authors. All of these books are absolutely excellent and they've all made me think about race, racism and privilege (amongst other issues) from entirely different angles. I'd highly recommend them all.
Becoming by Michelle Obama
I didn't go into this book with high expectations but I was blown away by it – not only by the sheer force of Michelle Obama's drive and ambition but by how well written and engrossing it was. As a British person I don't understand the system that the US uses to elect its politicians so I had hoped the autobiography wouldn't get too politically technical and thankfully, it didn't. What it did do, however, was show what a truly inspirational person Michelle Obama is. Her sheer determination to do well in life was astounding – just the lengths that she had to go to just to get a good education were ridiculous and her constant willingness to defeat the obstacles put in front of her was amazing.
I loved hearing about how Michelle took the role of First Lady and made it her own, with her unique blend of optimism, personality and hard work. I also loved getting a behind-the scenes glance at what life in the White House was really like, especially when you're also trying to bring up a young family. It was great to hear about what a nuisance the Secret Service were when you were trying to organise your daughter's sleepover or what it was really like to meet the Queen when you'd only a vague idea of protocol!
Overall, I thought this was a super-interesting look at an amazing woman and her incredible life so far. My only criticism would be her cheese on toast making skills – guys, she used the microwave. Whaaaaat???
Four "That's not how you make cheese on toast, Michelle" out of five.
Noughts and Crosses by Malorie Blackman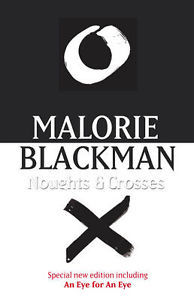 Book Riot Read Harder Challenge #2 Read an alternate history novel.
Oh. My. God.
I don't know that anything could have prepared me for this book – especially with that ending – but safe to say that I loved it, even though it was upsetting and graphic and difficult to read in places.
Noughts and Crosses is set in a world where power has been flipped on it's head – black people (crosses) are the ruling elite over the just-out-of-slavery whites (noughts). Sephy (a cross) has been lifelong friends with Callum (a nought) but when their friendship begins to develop into something more, the trouble begins.
There's a lot of adult themes in the book – not just around privilege, power and racism but also rape, abuse and murder. These topics are handled incredibly sensitively though and although in parts it's a difficult read, the writing is so outstanding that you're unable to put the book down. The characters are multi-faceted, complicated individuals who often act irresponsibly – entirely how teenagers should behave – and this made the story seem all the more real to me.
Overall, I thought this was a great book with a very important message – I can't wait to read the rest of the series.
Four and a half "You can't do that to a main character!" out of five
An American Marriage by Tayari Jones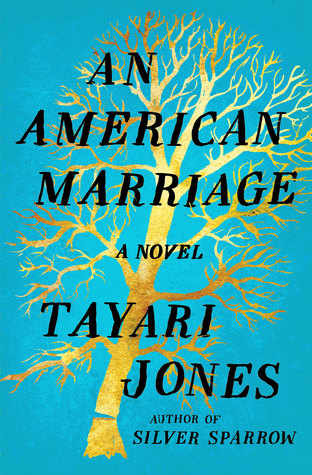 This is an odd book to review. On the one hand, I enjoyed reading it but I found that it was only after I'd finished that I truly understood how great it was. I just couldn't. Stop. Thinking. About. It. And every time I considered the novel from a new angle, I found a whole slew of other issues hiding behind it.
An American Marriage is the story of a married couple, Celestial and Roy, who become separated after Roy is convicted of a crime he didn't commit. Roy goes to prison and Celestial is left to build a life on her own, with just the shadow of her husband looming in the background.
It's the omnipresence of Roy in Celestial's life that really gives the book some tension. Their marriage is always there in the background, overshadowing every move they both make. The issue of their legal union binds them together and creates all kinds of questions about freedom – it acts as a kind of metaphorical, socially driven prison of their own making. It really made me think about injustice and how punishment of an individual ripples out to affect the whole family.
There's many things about the book that mean it shouldn't work – the characters are unlikable, the plot isn't particularly dynamic, the ending is a bit disappointing. However, there's something about the writing that compels you to keep reading. I should have hated it but instead I loved it.
Four "those dolls sound hella creepy" out of five. 
So, have you read any of these books? Do you make an effort to read from a diverse range of authors? Let me know in the comments!