Genre: YA Fantasy
Similar to: A little bit Golden Compass, serialised à la The Green Mile
Could be enjoyed by: People who like their fantasy in bite-size chunks
Publication date: 16th March 2019
Have you ever seen something you can't explain? Did it vanish as fast as it appeared? Perhaps that thing you saw was lurking in the shadows, and you caught a glimpse of it before it went back into hiding. There's a good chance, of course, that the thing you saw simply emerged from your imagination. Or maybe, just maybe, it didn't… Sapphire Smyth is no stranger to rejection. When she was only a baby, her father abandoned her after her mother died. Since then, Sapphire has never felt like she belonged anywhere, or with anyone. To make things worse, her foster carers have now turned their back on her – on her eighteenth birthday. After living with them throughout her childhood, Sapphire has to find a new home. Is it any wonder she finds it hard to trust people? Abandoned by the people she called family, Sapphire is alone and searching for some meaning in her life. Except that meaning has already come looking for her. When she discovers mysterious creatures lurking in the shadows, Sapphire soon realises that her fate is unlike anything she had ever imagined.
Now don't get me wrong, I love a big epic fantasy novel. The Chronicles of Amber, The Lord of the Rings, The Wheel of Time; I've really enjoyed them all (actually, I'm only on book four of WoT… so perhaps let's gloss over that one. Guys it is SO LONG)… Anyway, I adore getting stuck into a huge heavy tome that I struggle to fit into my handbag and gives me backache. So, I was a little concerned about reading a fantasy novella – how would they fit in all the world-building? Surely the first 100 pages of any fantasy book barely scratches the surface of the storyline? How on earth do you build a narrative arc – won't it end just as I'm getting into it?
FEAR NOT READERS!!!
Sapphire Smyth and the Shadow Five worked reaaaaaalllly well as a serial. The writing was immediately engaging and fast paced. There was a good narrative arc – the book ended in a *ahem different place to the beginning, which meant that there were some nicely defined boundaries and a natural place to pause. Despite my reservations, I actually quite liked the short novella style – it was different, sure – but once I had got my head round the idea that the story was to be continued, it was much like mentally agreeing to read to the end of chapter four.
EXCEPT YOU CAN'T IGNORE YOUR OWN LIMITATIONS AND READ ON ANYWAY AAAARRRGGHH WHAT EVEN IS THIS
Unfortunately, I did find that the payoff for having such a direct, action filled plot was that the word building suffered a little. I struggled to visualise some elements and thought that in places more detail was needed. I also thought that there were certain parts where a slower build up/acceptance of what was going on would have worked better. For example, Sapphire seemed pretty accepting of certain situations – like her almost comically quick assertion that she was in a different realm – which I felt let the storyline down a little.
However, as a character I really liked Sapphire and her kick-ass persona. I thought that her and Ben's relationship was great and I'm excited to see how it will develop. I loved the idea of the mythical daemon/patronus/familiar fox that kept appearing and the concept of terrifying shadow creatures was truly creepy.
The only thing I couldn't get out of my head was the ending on the futuristic transport thing… I'll just leave this GIF here…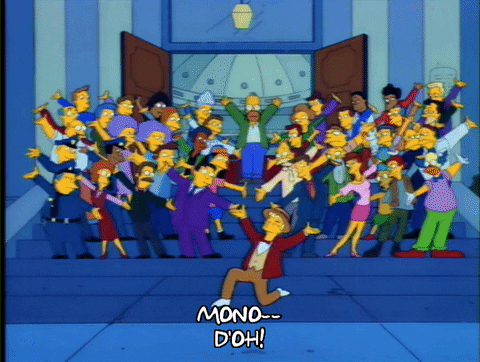 Overall, I loved this little gem of a fantasy novella/part one of an epic. The pacing was super quick and engaging, the characters were awesome and the overall idea was really unusual and just the right amount of creepy. I would have preferred slightly more description and perhaps a slower pace in some areas but this was a minor criticism. I can't wait to see what happens next!
Four "What the fox say?"s out of five.
Brilliant writing, an engaging storyline and a fantastic format make Part One of Sapphire Smyth… a winner for me. Can't wait to read more!
Author R. J. Furness has been passionate about great stories since he was able to read. At an early age, he would frequently create new characters, worlds and creatures then write crazy tales all about them. However, until now, he has always kept those ideas completely secret. After having a lifelong interest in animals, music and anything spawned from pure imagination, R.J.'s first loves are now his wife and children. Over time, he has also developed an overwhelming desire for mugs of tea and good biscuits to dunk. He lives in Southport, England, with his family, a dog and several fish, chickens and quails.
---
Please note that I read this book for free in exchange for an honest review courtesy of The Write Reads. Thanks Dave!